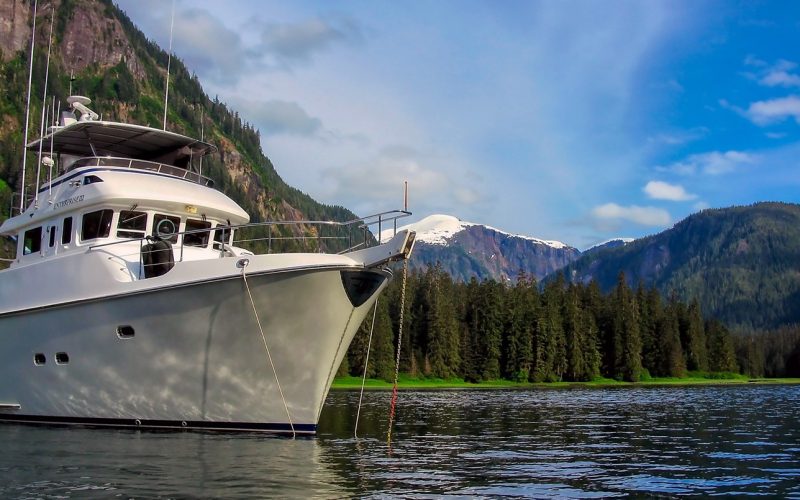 Jeff asked the owners of Enterprise III to share some of their thoughts on owning a Nordhavn 55. This is an active couple with a great zest for life who have fully embraced the Trawler Lifestyle.  Prior to purchasing their beloved Nordhavn 55, the only vessel they had owned was a sailboat half this size.  They originally wanted a cruising sailboat, then had a life changing charter aboard a Nordic Tug that opened their eyes to the potential for cruising under power.   After doing their research they concluded that a smaller Nordhavn would be just the right ticket, until they stepped aboard their 55 and… we'll let them explain below. Always up for adventure, unafraid to take on a challenge (and quick learners) they have explored over 18,000 miles and gathered a new story (or two) every day they have been aboard.
Questions and Answers:
What attracted you to Nordhavn?
Its reputation as a bombproof long-range cruising trawler.
Prior to buying Enterprise we'd been sailors for a few years, but mostly just race-crewing on other people's boats out of Fremantle, Australia. Although during that time we did own a MacGregor 26′ trailer-sailer for a while, which we didn't use anywhere near as often as we could have.
And based on this brief exposure to 'Life On the Ocean Waves' every weekend we decided that as soon as we were able, we'd quit the rat race and sail (with rags) around the world.
So we started researching all manner of bluewater sailboats, and after a while we were pretty sure of the one we'd opt for once we eventually took the plunge.
Then in 2010 we went 'walkabout' for a few months as the Aussies say, and we found ourselves up in the Pacific North West in March, and for reasons that seemed really good at the time, we chartered ourselves a boat to cruise the San Juan and Gulf Islands (but we couldn't tell any of our friends back home because it only had an engine): it was a Nordic 32 called Louise Ann and it was quite literally a life-changing experience.
A few minutes into it, I was thinking 'I like this!'
We were upright.
I was wearing a t-shirt.
It was warm at the wheel.
We were going in a straight line at around 7 knots.
And if just to emphasise the contrast, we overtook a similar-sized sailboat who wasn't any of the above (it was a cold blustery showery day in late March).
Con-verted!
So a whole new set of research was needed.
I'd never heard of Nordhavn (or any of the other trawler brands either), but it didn't take long to spot a consistent theme running through cruising blogs and magazine interviews: that a Nordhavn (of any size) was just about everyone's 'Ultimate Dream' cruiser.
A quick look at the general design and technical specifications convinced me(us) that a Nordhavn is the Land Rover of the seas – which from me (a Brit) is high praise indeed, because I'd spent almost a decade in the deserts of southern Africa with my 1976 Series III Land Rover that I loved more than life itself: It too was bombproof.
And I figured that I(we) could be equally confident in 'going remote' on the waves in a Nordhavn as we were in 'going remote' in the Namib desert with my trusty Series III.
Decision Made!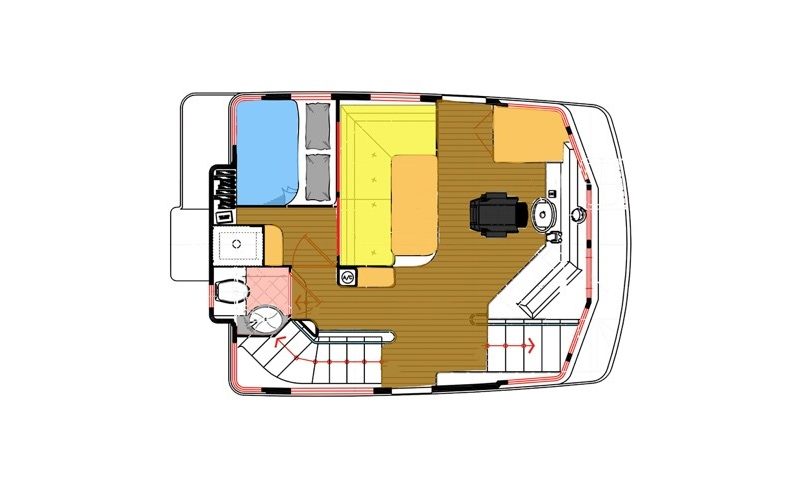 LAYOUT: Enterprise III Pilothouse Deck
Why a 55?
… that caught me by surprise.
After we'd finally decided to give up working in 2012 (THAT was a two-bottle night!) and actually get a boat, we'd been in contact with PAE in Dana Point expressing an interest in a 46 that was for sale there. We'd already seen a 43 and a 47 in Brisbane and so we had a good idea of what the later models looked like, but at this stage we were only looking at cruising for maybe a year-or-two, just to see if we actually liked it as much as we hoped we would, and we could afford the 46 without it impacting too much on all our other 'domestic' arrangements.
And this is where I(we) realised that there's a special place being reserved in hell for boat salesmen.
Because after showing us the 46 – I loved it (co-captain not too thrilled) – the broker walked us through a new 52 being fitted by its coincidently also-Aussie owners for its first decent sea-run: I loved that more.
Then, if I thought I loved the 52, he walked us through a 55 that wasn't for sale before unsubtly breaking it to us that there was another 55 'Actually better than this one' for sale in San Diego, and that 'Seeing as you've come this far already' it would be a shame not to look it over.
So next day we did.
And this no word of a lie: the decision was made in 15 seconds flat.
We took our shoes off and stepped on board. I went up to the pilothouse with the hell-bound broker and watched while he flicked a dozen-or-so switches. I then noticed the co-captain, shoes back on and sitting on the dock-box. I went to enquire.
'That's my boat!'
And that was it! Three days later we were the proud, if slightly stunned, owners of 5503. And it's without a doubt the best decision 'we've' ever made.
It took us about three months to get everything set up back in Australia for our long-term departure (you would not BELIEVE how much paperwork is involved in trying to reduce paperwork!), and on June 14th 2013, we stepped aboard in San Diego.
We've barely been off since.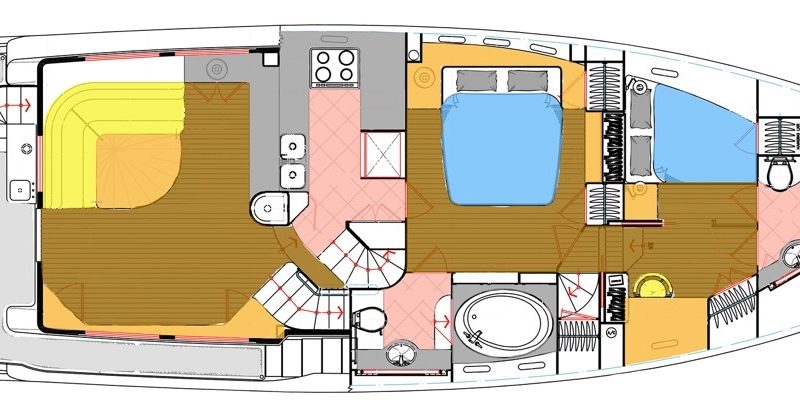 LAYOUT: Enterprise III Main Deck
How did you find adapting to a full-time cruising life?
Took to it like ducks to water!
Although it was daunting at first, no doubt about it …
… if I'd known just how much we didn't know before we took the plunge I'd have been far less sanguine about taking it.
About the only thing the 55 had in common with our lil' MacGregor 26 was a steering wheel. It felt like driving a battleship after puttering around in a peddle-boat on a kiddie-pond.
But that was just the handling part.
Full-time cruising required us to master an entirely new set of life skills: weather appreciation, route planning, communications (sometimes remote), provisioning, visas and cruising permits, border formalities, marina bookings, scheduled maintenance hauls, DIY maintenance diagnostics and repair skills on top of having to learn how to handle 60 tons of momentum in some very tight spaces.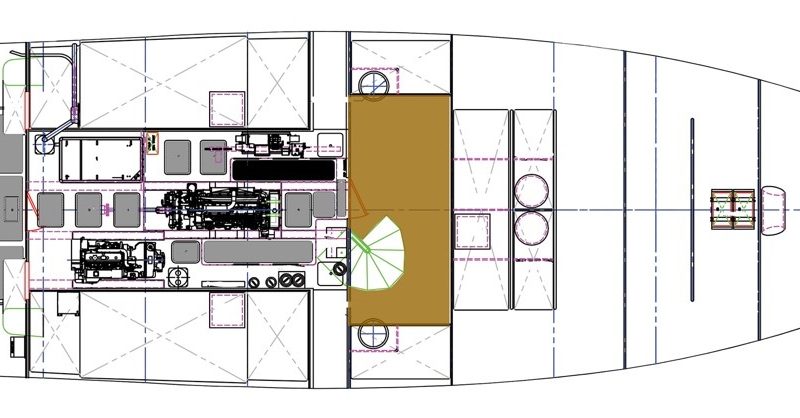 LAYOUT: Enterprise III Lower Deck
Advice to a new owner?
Unless they're already familiar with most boat systems, read everything first!
I spent the first six months reading every manual on board, all of which seemed to have been written for someone with way more 'base knowledge' than me, so there was a fair bit of web-searching needed before I could even understand the Intro's.
They'll hear repeatedly that 'You get to know your boat one system at a time' and this is a spot-on bit of received wisdom, so no one should feel daft if they don't know how a particular system works when they first get on board. Because trust me, they'll have plenty of opportunity to dissect and analyse it when it eventually breaks down (which it will).
Take full advantage of the NOG! (Nordhavn Owner's Group).
The combined body of Nordhavn knowledge on that forum is encyclopedic and everyone on the forum is willing and eager to help and share.
As far as base self-sufficient maintenance skills go: I(we) were fortunate in that my dad was a mechanic and I've been slinging spanners ever since I was big enough to pick them up, and so pulling machinery apart holds no fear for me. Plus, I'm a mining engineer by profession, which encompasses a broad range of disciplines and requires a healthy ability to analyse a situation with a less-than ideal amount of information … but I still don't like electrics. I have to think way too hard when dealing with the sparky stuff and I'm always hugely relieved if I get away from an electrical job without having scored any straight white hair or curly black teeth during the endeavor.
But I reckon anyone with an engineering-type bent or background could manage and maintain just about all the systems on a decent cruising boat.
If they haven't got this background though I'd strongly recommend attending as many training courses as they can before 'going remote', because 'remote' is where problems that you can handle yourself are little more than inconveniences, but problems that you can't handle yourself can be disastrous.
I'd also recommend taking a basic SCUBA course too. I do a lot of my own diving and I have to say that not being able to look at the bottom of the boat or check the prop or thrusters or zincs will be a real handicap to a serious cruiser. The boat has its own compressor, two dive cylinders and 100′ umbilical hose, so there's no excuse!
Saloon to Pilothouse
What have you learned while live aboard cruising?
Space is important.
When we first started looking at Nordhavns we were only looking for a boat to cruise on for a year-or-two, hence our interest in the 46. But now we've been on a 55 for close to seven years we can say without any fear of contradiction that 'space' is essential for comfortable living.
We even got rid of the semi-rigid because it was taking up too much space on the dinghy-deck, and we replaced it with a Porta-Bote folding boat. This inexpensive and utilitarian butt-ugly tender folds to the size of a paddle-board and stores out of the way in a couple of kayak brackets. It takes 10 minutes to set it up and with its 6HP outboard it does absolutely everything we want a skiff to do: it's all-but indestructible, we can slam it onto just about any type of beach without any fear of puncture, it's light enough to easily drag back to the water if we find the tide's gone out and left us high-and-dry on some remote strand somewhere, and if a bear takes an interest in it while we're off walking it'll have a far better chance of surviving the encounter than the air-filled tubes of a tricked-out high-tech pride-and-joy bling-RIB (great for impressing the anchorage as you tootle between neighbour boats, but a proper liability everywhere else).
Having no dinghy to store, the boat-deck became an extension to our outside living area. We had a custom canvas awning made for it (with shade cloth drop-panels) and spent many hours relaxing there while on-anchor watching the sun go down over the Sea of Cortes (actually over the Baja Peninsula, but that's just being pedantic).
Also, in marinas where it's not practical to leave the dinghy tied alongside all the time, with no dinghy to store on deck we had plenty of space on the boat deck for al fresco dining, relaxing and even exercising.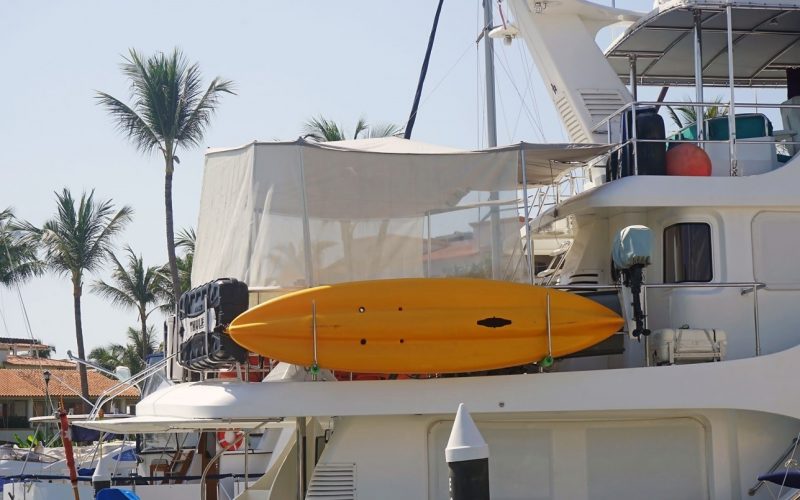 Awning on the boat deck
Where is your favorite cruising area?
That's a tough one.
Over the past seven(-ish) years we've travelled just-on 18,000nm between Alaska and Mexico and spent full seasons in both the high and low latitudes.
Whales and icebergs in Alaska plus six inches of snow on the boat over one New Year in Princess Louisa Inlet in BC (we were the only boat there) was magical.
Being surrounded by hundreds of dolphins and leaping Mobula Rays in the Sea of Cortes was equally magical. Getting our arses kicked by Hurricane Newton in 2016 in the Sea of Cortes was less magical…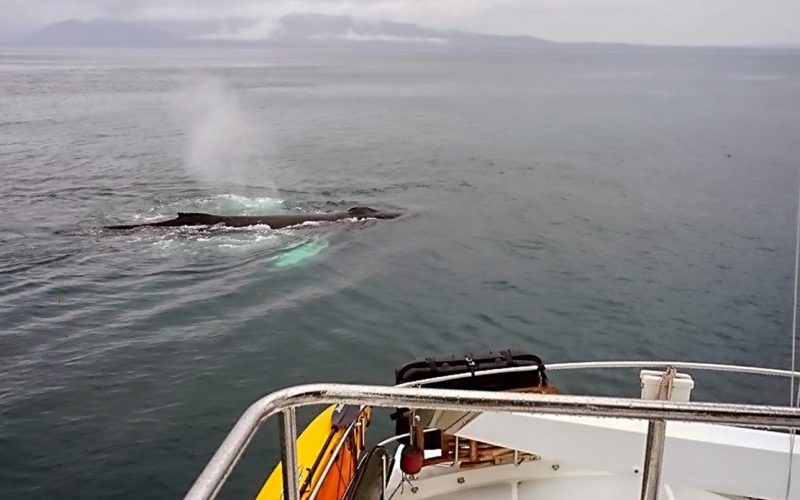 Whales in Alaska
Why are you selling?
That's a question we're still asking ourselves.
If Covid hadn't hit we'd likely right now be somewhere on the east coast of the US getting ready to 'hop the pond' and head for Europe via Bermuda and the Azores.
But it now looks like that plan has been kyboshed for at least a couple of years, and this must sound outrageously spoilt, but we think it's time to move on to something different.
Our longer-term 'plan' had always been that once we gave up ocean cruising we'd relocate ourselves to Europe where there are 35,000kms of navigable rivers and canals, and get ourselves a canal boat to live/cruise on. So now we're bringing that forward.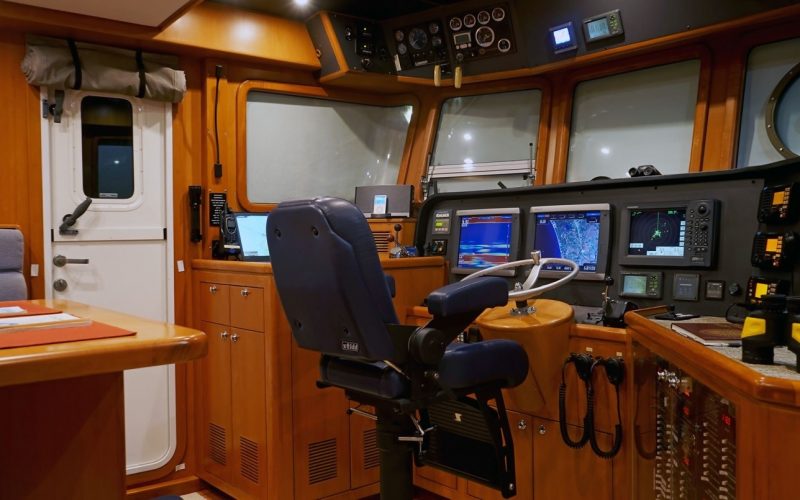 Pilothouse
What are you going to miss?
Everything.
Getting off is going to be hard.
We've been married for 26 years now and we realised recently that the time we've lived on this boat is the longest we've lived anywhere. Granted, while living on the boat we've also been living in some stunningly gorgeous and varied locations, but this has definitely been 'home' in a way that nowhere else has.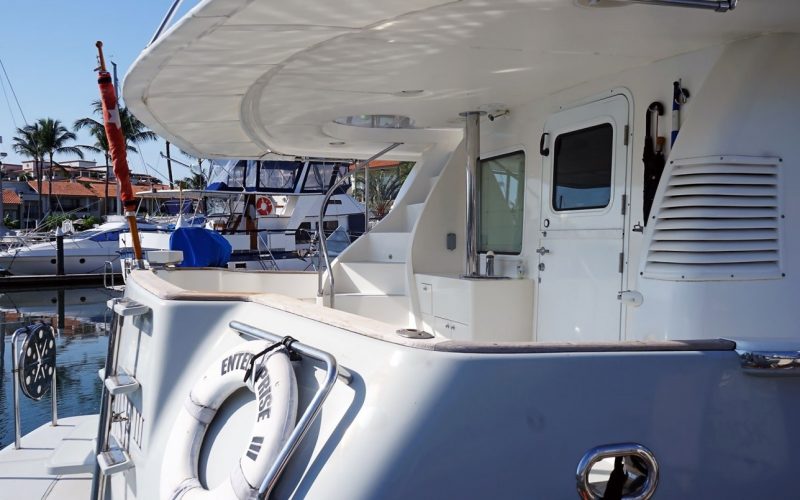 Cockpit
What's next?
A 60-65′ Cat C Luxe Motor or Dutch Tjalk is what we'll be looking for next … watch this space for updates!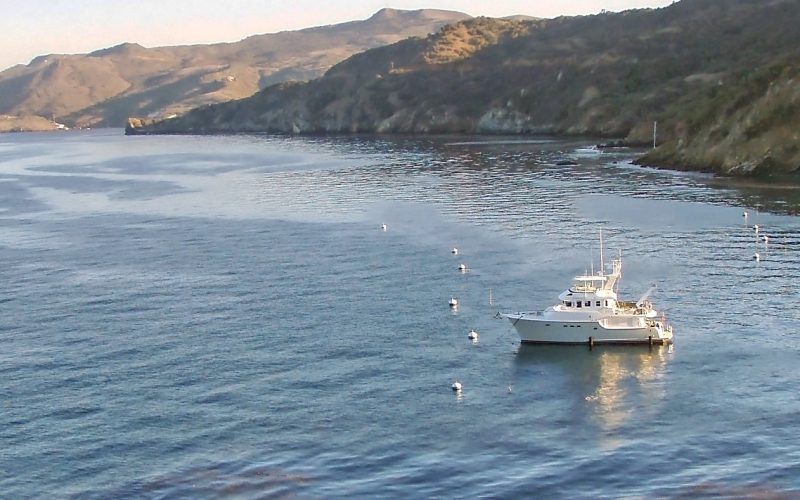 THANK YOU!
For additional information (pricing, specifications, layout, photos, video, etc.) please visit www.JMYS.com and the dedicated website prepared for this listing, www.Nordhavn55forsale.com.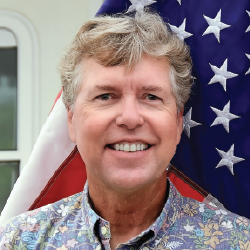 All inspections of Enterprise III are by appointment only. Please contact listing broker, Jeff Merrill by phone, text or email for additional information or to schedule your personal showing.  Jeff is always available via Mobile +1.949.355.4950 (call or text). You can send a detailed Email to: Jeff@JMYS.com.  For more information on Enterprise III, or any other trawlers you may be interested in, please reach out to Jeff and allow his experience to help you find your ideal boat!
Broker's comments: The 55 design is one of the most popular Nordhavns ever conceived.  Easily managed by a couple and large enough to be a palatial home afloat. This is a trawler that can cross oceans with grace and explore remote coves in style.  In the current "Covid Climate" many future trawler owners are getting tired of staying at home and thinking more seriously about getting a boat and getting away.  There has been a surge in demand for trawlers in this size range and the Nordhavn 55 is at the top of list. Please get in touch if you would like to know more and let's schedule an appointment to get you aboard and see for yourself why Enterprise III has been such a wonderful cruising platform.